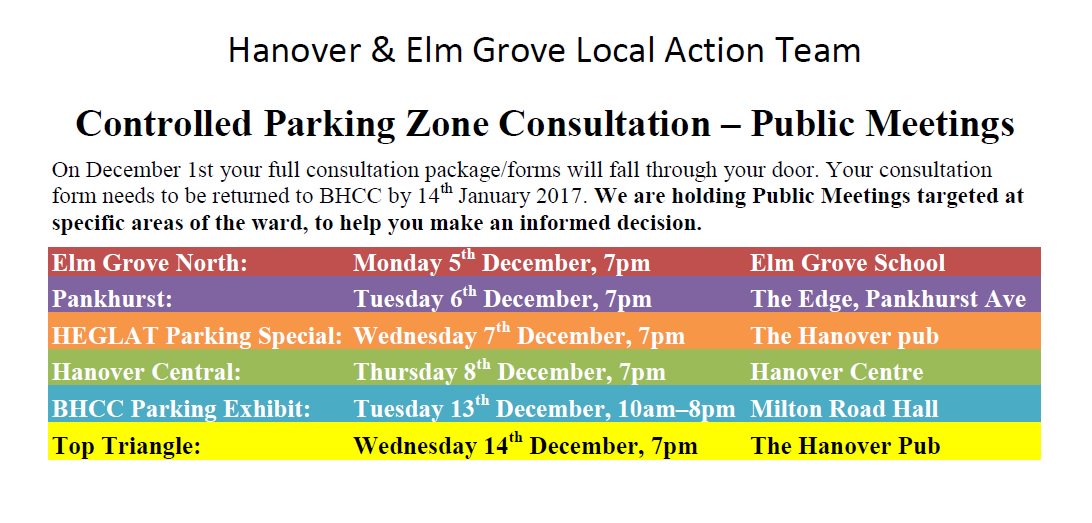 Following a process initiated by the Hanover & Elm Grove Local Action Team a couple of years back, the area is currently being considered for a controlled parking scheme, with the council due to publish proposals in December 1st.
Whilst the major outcome of the proposal will be to regulate and organise the way that private motor vehicles are stored on the highway, there are also implications and opportunities for other aspects:
A controlled parking scheme will also mostly likely include additional cycle parking spaces – will there be enough and in the right places?
Some streets may be converted to one way operation – should they be two-way operational for cycles?
Overparking at some junctions reduces visibility of and for cyclists. Are these locations being addressed?
As well as the standard council consultation, the Local Action team have organised a series of public events around the ward for people to have a look at the plans and make comment (see above for details). A great many Hanover & Elm Grove residents use cycles for transport, and if you are one of them and can attend any of the events listed to comment on proposals, your input would be most welcome.
In our ward pages, Bricycles have been collecting comments and ideas for improving cycling facilities and infrastructure across the city. For the Hanover & Elm Grove page, look HERE